How Often Should I Post To My Blog?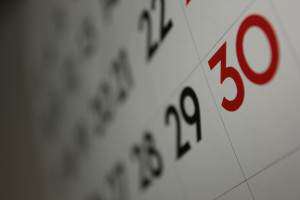 So you started a blog… Whoohoo!
You know what blogging mistakes to avoid, you have an idea of what you'll write about, but…
You're not sure how often to publish.
You have options! I'm sure you've seen blogs that are only updated once every few months, and others that have new content every single day.
Updating every single day isn't a requirement but there is something about that you do need:
Create A Publishing Schedule And Stick To It
I'll walk you through how to pick your schedule. But the truth is, the exact number isn't as important as being consistent.
If you plan on doing it once a week, put it in the calendar and do it! The long term results of being consistent for blogging (or creating anything else, really) will be huge.
Mark your calendar! Even better, create drafts of posts and set the date they will go out. So you can look at your list and see… X will be published on the 10th, Y will be published on the 17th, and so on.
Even better, once you've set up your WordPress website, you can install the Editorial Calendar Plugin to see the posts in an actual calendar format.
The default WordPress list view is fine for most uses, but when scheduling content I've found it really helpful to see the posts on a calendar… and move them around if I need to.
Pick A Schedule You Feel Good About
Some questions to ask yourself:
How often do I want to blog?
What can I realistically commit to?
What would best serve my audience?
You should feel good about this. So if you think it'd be a good idea to blog 5x per week, but you don't want to and can't fit that much writing into your schedule… don't do it!
For the sake of consistency and establishing yourself as an authority on a topic (or building a writing habit) I'd recommend doing a minimum of 1 post published per week.
That doesn't mean you need to write every week.
You can easily set aside 1 day per month writing and editing as many posts as you can write, then scheduling them to be published in the upcoming weeks!
The more you publish (and promote) posts the greater chance people have of noticing your work.
Imagine your site is a tree. And each piece of content you produce is a branch. The more branches you have, the more likely a visitor (a bird? There's a twitter joke in here somewhere) will land on it.
So if you're up for the challenge, post more often. You may see greater results. As long as your posts are of good quality.
Keep In Mind Post Length
A big part of what will affect how often you write is the length of a post.
If you write an in depth 2,000 word article, I wouldn't suggest publishing every day.
There's no best length for a post, it just depends on what you want to communicate. So if you want to publish more often, consider aiming somewhere in the 300-800 words range per post. Something that can be written and read more quickly.
As always, experiment with what works for you and your audience!
Do you have any other questions about blogging? Leave a comment below and I'll respond!
Photo: "Calendar*" by Dafne Cholet